"Dear Sue,
"I have to tell you how great your product is! I bought it for the big terrier group show and had just five days to work my Lakeland puppy (10 months old) on it. Well, we KICKED BOOTY at the shows! Tulip had a strange desire to pull both back legs under her and spring straight up constantly. Her tail didn't seem to be high enough either, and I was tempted to find a chiropractor for her until I tried Happy Legs™.
"She stood on it the first time and seemed so proud, and it was EASY for her to stand with her rear out behind her and her tail up! She seemed a natural the first time, and then, I took her off after just about 20 seconds and put her down on the ground. She started to scale a box with clothes in it for Goodwill next to my grooming table just to get back on the Happy Legs™! I wasn't positive that it was what she wanted, so I picked her up, and she strained toward the box and did these things I call 'paws,' where she put her two front feet together and paddled toward the Happy Legs™ until I put her back on! She LOVES it! Silly girl! She also got VERY jealous when my Mom used it for her Wire Fox and literally pitched a fit until I put her back on for a few seconds!
"Well, this weekend, we went to the NCTA. Tulip was entered in Bred By. We won WB, BOW when the judge should have spread the points to the male but didn't. Then the second day, Tulip won Best in Sweeps, Group 3 in Sweepstakes, WB, Best Bred By Lakie, and Best Bred By in Show! Under Ken McDermott! What a wonderful weekend, and she was truly talked about by the whole show! I gave everyone the Happy Legs™ pitch and believe you will get some business from this wonderful weekend full of wins.
"I included a picture of Tulip on your product. Hope you enjoy it.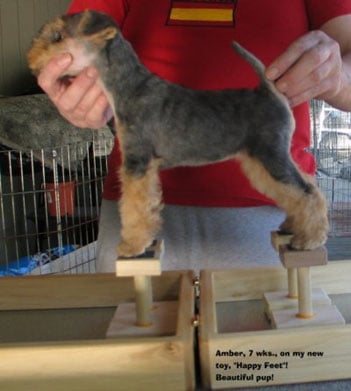 "Also included is a baby, an eight-week-old standing on Happy Legs™ for the first time. She is a pup I'm raising for someone else who hasn't seen her in person nor one good picture of her until now. Boy, was he impressed! The baby, Amber, is a wild child but even stood without help after a couple of tries. Unbelievable!
"Thanks again for such a super product, Sue!"